Scottish Word and Image Group Conference 2013
FILM, THEATRE, PERFORMANCE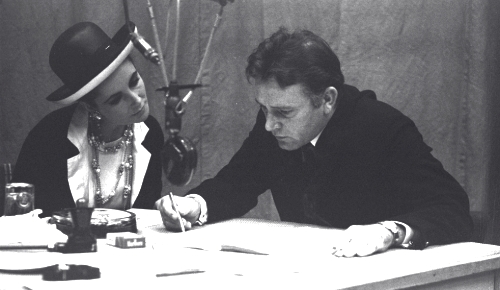 Richard Burton recording Under Milk Wood with Elizabeth Taylor by Michael Peto
Copyright University of Dundee Archive Services
20th Annual Scottish Word and Image Group Conference, University of Dundee
Saturday 22nd - Sunday 23rd June 2013
D'Arcy Thompson Lecture Theatre, Tower Building
Film, Theatre, Performance will consider the interdisciplinary relationship and crossovers between live performance, film and television, particularly in relation to word and image interactions.
This year's Scottish Word and Image Group (SWIG) conference is being held in collaboration with Dundee Contemporary Arts as part of a celebration of the life and work of the legendary filmmaker Lindsay Anderson. There will be a special screening of 'In Celebration', the 1975 Anderson-directed production that provided Brian Cox with his first screen role. The Dundee-born actor will talk about working with Anderson following the screening at the DCA on Saturday 22nd at 6pm. Members of the public are invited to this event (tickets available from DCA). There will also be an exhibition of photographs of film and theatre productions by famed photographer Michael Peto from the University's Archive collection, which will be unveiled the week before the conference, and will run until 10th August.
Speakers from across the UK, as well as staff and postgraduate students from Dundee, will deliver talks on various issues relating to the relationship between film, theatre, performance, words and images. These will include talks by some of the leading academics in the country, including Professor John Izod and Karl Magee (University of Stirling), who will speak about Lindsay Anderson; Professor Charles Barr (St Mary's Twickenham) on filming the play in Hollywood's Golden Age; and Professor Neil Sinyard (University of Hull) on William Wyler and the art of adapting plays for the screen. Noted animation historian, Professor Paul Wells, will focus on Disney's Goofy in a discussion of the connections between animation, theatricality and performance.
Other talks will cover a diverse range of themes: Dr Keith Williams will elucidate the relationship between James Joyce, magic lanterns and the concept of cinematicity; Matthew Jarron will consider how early British sound films drew on the talents of music hall performers; Dr James Stewart will examine some rarely seen letters by George Bernard Shaw to the actor, Johnston Forbes-Robertson, which are held in the University of Dundee Archives; and Dr Jennifer Barnes will give a paper on Laurence Olivier's "lost" script for a film of Macbeth, which she recently rediscovered, a story that was picked up by The Guardian last month. Professor Rowland Wymer will look at The Duchess of Malfi on film. Graham Fagan from Duncan of Jordanstone College of Art and Design will preview part of his new multi-media film and performance work, The Making of Us. Sharon Campbell, also from DJCAD, will demonstrate techniques for drawing performance. Professor Mark Robson will talk about the influence of Bertholt Brecht on European directors such as Godard and Haneke; Pascale Aebischer will discuss on-line performance, and Alice Black, Director the DCA Cinema, will chart the growing phenomena of live theatre transmissions at the cinema. Dr Jo George will explore the relationship between the Pre-Raphaelites and theatre, and her JOOT theatre company will also deliver a dramatic reading.
Postgraduate papers will include: Liz Rogers on Shakespeare as propaganda; Mark Brown on contemporary Scottish drama; Jordan Risbridger on performing the Old English elegies, and Peter Jameson on the films of Joseph Losey.